---
This FAQ page is designed to assist the webmaster in a few
common problems they may have accessing their website console.
---
Q I connect to the Internet with a cable modem, why am I having trouble accessing my console?

A The Problem is that many cable companies set up their subscribers using a proxy server. To access your website console, you need to disable this proxy server. This won't change your connection speeds or internet connection.


When using Microsoft Internet Explorer 5.0:
1. Select INTERNET OPTIONS under the TOOLS menu;
2. Next, select the connections tab at the top of the internet options page;
Then select the "Lan Settings" button at the bottom of the page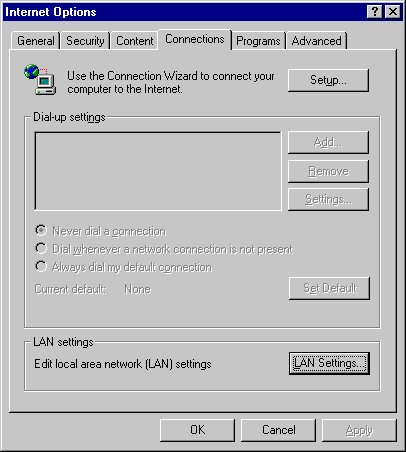 Make sure that the checkbox next to "Use a proxy server" is UNCHECKED!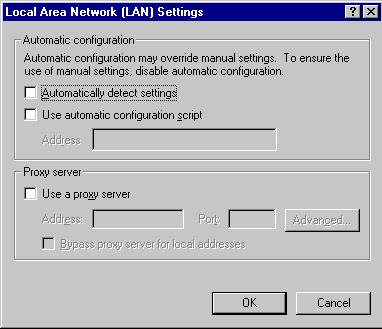 Press OK to close these options windows, project done.


---
NETSCAPE NAVIGATOR
To disable the proxy server in Netscape Navigator:
1. Select PREFERENCES under the EDIT Menu

2. In the preferences page, click on the little '+' symbol next to advanced in the left hand side white box, this will display the proxies settings...Next click on Proxies, and make sure that the radio button is highlighted next to the "DIRECT CONNECTION TO THE INTERNET"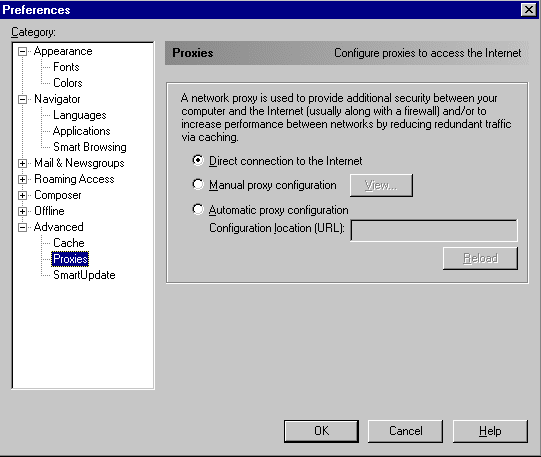 Press OK to return to the browser window, project done.


---
If these steps didn't work for you, or you have a different browser/version,
or need any assistance, please contact Megaton customer support
Back to the Index